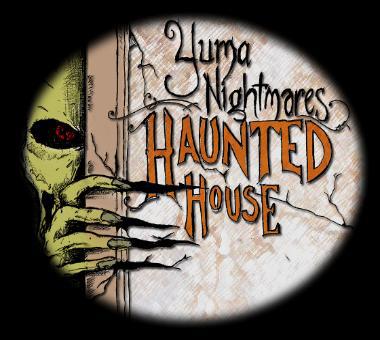 Yuma Nightmares
is a haunted house and they do a killer Christmas event to.
Yuma Nightmares
is doing a Christmas Inspired by Disney's A Nightmare Before Christmas. This is so cool we are even going to try to go down and see it.
I would say this is a must go to event! Visit them at
15485 South Avenue 4E Yuma, AZ (4E and County 15½)
Like Yuma Nightmares on Facebook
This is from there website!
www.yumanightmares.com
Re-Opening
, December 2015!
Come see our kid friendly INTERACTIVE Haunted House walk-through
Christmas display Inspired by Disney's Nightmare Before Christmas!
Here is
Yuma Nightmares
history right from there website
www.yumanightmares.com
www.facebook.com/yuma.nightmares

The Haunted House had a modest beginning in 2001 in Camelot Apartments with one person in a costume. We then moved to Sierra Sunset behind Cibola High School and progressed to a banquet table scene full of homemade mannequins with movie icons enjoying the dinner and I (Mark) pushed all the different animatronic gadgets with my finger or triggered them with a flashlight while patrons toured the "Haunted House" in 2002. At this point, the Haunted House was located in a small front yard.

In 2003, a permanent maze was built in the garage, which lengthened the haunted house and gave us plenty of room to scare people. Unfortunately, this made it difficult to do laundry as one would have to exit the kitchen door and walk through a maze to get to the washer and dryer, which was quite comical. The Haunt grew over the next two years to cover most of the front yard, driveway, garage maze, and the roof utilizing 8-10 actors to provide scares.

We then decided to move to a bigger and better location, because on Halloween night there were four blocks of parking tied up to get to the "Boogeyman Bungalo". So, we ended up at our current residence on the corner of 4E and County 15½ which covers a little over 2½ acres. This new haunt was renamed Yuma Nightmares Haunted House. The current Haunted House takes up approximately 1 acre now. We will probably keep the actual size of the haunted house to 1 acre as it takes 50 actors a night to cover all the areas adequately. With the extra room we put up a 2,000 square foot tent-like structure which was a lot of fun, but we broke it down after two years in favor of a more code friendly open air environment. We have grown over 300 different plants in our desert lot to transform it into more of a park-like/cemetery-like environment which provides us with all kinds of fun shadows and creepy places to hide in.

For the last five years, we also expanded to a Christmas event initially named "The Haunted Holiday" as we were trying to recreate what Disney was doing with their Haunted Mansion Holiday in the winter. I strongly recommend you visit their event which runs from September to early January.

Now our event utilizes 100 to 200 volunteers to fill the 50 positions per night needed to run an event this size. Our set design is improved upon each year and our costumes become more elaborate with each season. Again we are always looking for fun and energetic/motivated people become part of our core group of actors. Please come out and see what people are talking about!


Sincerely,
Mark Plante P.T.
www.facebook.com/yuma.nightmares
www.yumanightmares.com