​​​Get UZA MysCreation Haunted

Attraction ​at your event NOW and

for more info go to

www.myscreation.com

---

Get UZA MysCreation Haunted

Attraction at your event now!

​MysCreation Haunted Attraction is a

TRAVELING Year-Round Haunted Attraction.

​MysCreation has TWO Haunt Themes / Attractions

​Sep/​Oct will have All New UZA MysCreation

Haunt Themes / Attractions

for more info go to

www.myscreation.com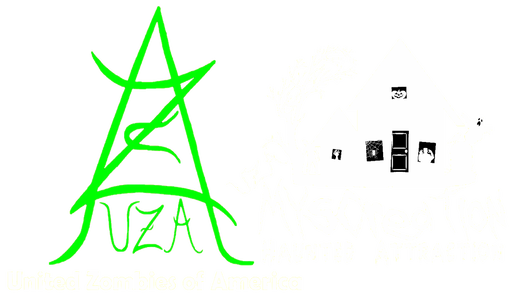 ​UZA MysCreation also has haunted/scary or
happy/jolly/merry Holiday Attractions
Nightmare Before Christmas
Krampus Christmas Nightmare
UZA MysCreation Christmas Nightmare
Curse of the Leprechaun
Blood Fest Valentines and More!
​for more info go to
​
www.myscreation.com
---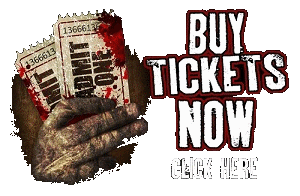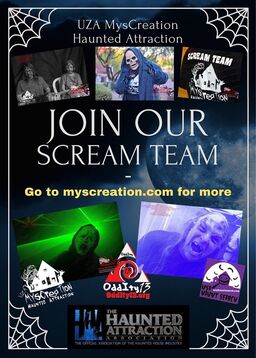 Be a part of UZA MysCreation Team year around!
Learn and grow with an amazing team environment.


Develop a greater understanding of Leadership, Haunted Attractions, Acting, Improv, Makeup & SFX, Learn How to become a Monster and Character development, How to be Scary, Learn different types of Scares and how to use them effectively, Learn about Business and Business Ethics, Anti Bullying, Public Speaking, Learn about Videography and Photography, Photo Editing, Video Editing, Learn Character Counts, Diversity, Cosplay, Security, Safety, Building - sets, props, costumes and more!


Develop a passion and commitment to Social Change, Community and Haunted Attractions.


Empower people to lead -- believing in their ability to make a difference in their life and the lives of others, as well as, in the world around them.
myscreation.com/become-a-team-member
---