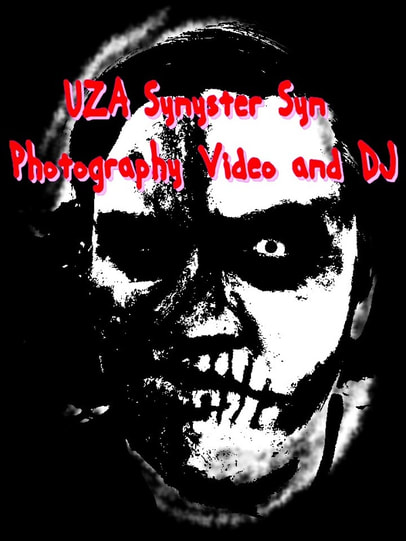 UZA Synyster Syn
Photography Video and DJ
UZA Synyster Syn is a part of United Zombies of America.
​ Synyster Syn is our Photography, Video, DJ and Tech side of UZA.
​
​

Check out our Pricing, Services & Rentals synystersyn.com/pricing-services

We have many services & rentals like:

Photographers, Photography packages, DJ, Lighting, Sound, PA, Video, Sound Recording, Fog Machine, Bubble Machine, Snow Machine, Fog Chiller, Confetti Cannon, Outdoor Movie Screen, Projector, Ankle Blaster, Flash/Cracker, Inflatable Tub Man, Cotton Candy Machine, Popcorn Machine, Snow Cone Machine, Inflatable Axe Throwing, UZA Zombie Attack Live Game, UZA Characters, Halloween/Haunted Attraction Consulting, Event Consulting, Production/Set Design, Building & Painting, Prop Creation, Makeup & Costume, Graphic/Web Design, Logo Design, Marketing/Promotions, Actor/Actress Training for Halloween/Haunt, Actor/Actress Training, Safety Training and Much more.

Go to

synystersyn.com/pricing-services
​ to see All Services & Rentals
To see Services
​and Rentals Click Me!We have done and do the following things:
Horrorgraphy, photogrphy,
videos, commercials, movies, training, teaching, panels, classes, DJ-ing events and dances, photography – taking pictures and videos and being in them, security, volunteering, Library Cons, Hosted/lighting/sound in shows, makeup and special FX, training/classes/panels on various topics, promoting and advertising, dances, flash mobs, lighting design, audio and Visual design, directing, play writing, stage managing, movies/commercials/videos, comic cons, haunted houses, photography, costuming, art, security, social media, DJ-ing, parties and carnivals as well as all kinds of events, volunteering, and charity work.
synystersyn.com
uzahorrorgraphy.com
To see more photo's
click me
.
To see more video's
click me
.
---
REMEMBER WE ARE NOT
A ZOMBIE/MONSTER/HORROR
BUSINESS ONLY!

We are a ALL AGE FAMILY FRIENDLY Business.
We can be "almost" anything ....
from cute, funny, engaging, to sophisticated
actors, even up to terrifying, scary, horrible
ghouls it only depends on what your interests
and requirements prefer.
We just love acting and contributing
our BEST to make your event a SUCCESS.