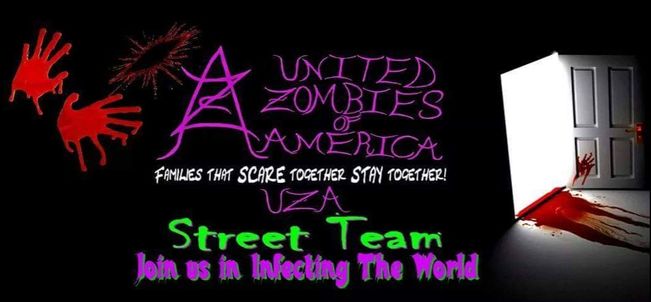 Help The UZA by Joining The UZA Team and doing the missions!
Want to be a Member this is a good start!
Everyone in UZA is a part of UZA Street Team.
we want to share as much as we can to help infect the world with Positive Social Change The (PSC Virus). Follow UZA and UZA Street Team and help us in our mission to Infect the world!

Join UZA Street Team Now Click Me!
We have a name for are beloved Fans we like to call UZA Fans Maggots!!
​Zombies are Nothing without Maggots Trust us it is not the same without them!
Are Fans are the best and we love them all! Without fans we are noting!
So Thanks from everyone here at UZA!!
Here is a cool song about are Maggots but they are called worms here!
Don't you ever laugh as a hearse goes by, for you may be the next to die. They wrap you up in a big white sheet, And cover you up from your head down to your feet. They put you in a big black box, And cover you up with dirt and rocks. All goes well for about a week, And then your coffin begins to leak. The worms crawl in, the worms crawl out, The worms play pinochle* on your snout. They eat your eyes, they eat your nose, They eat the jelly between your toes. A big green worm with rolling eyes, Crawls in your stomach and out your eyes. Your stomach turns a slimy green, And pus pours out like whipping cream. You spread it out on a slice of bread, And that's what you eat when you are dead.
We love The Six Pillars of Character
http://charactercounts.org/index.html
Trustworthiness Be honest • Don't deceive, cheat, or steal • Be reliable — do what you say you'll do • Have
the courage to do the right thing • Build a good reputation • Be loyal — stand by your family, friends, and country
Respect Treat others with respect; follow the Golden Rule • Be tolerant and accepting of differences
•Use good manners, not bad language • Be considerate of the feelings of others • Don't threaten, hit or hurt anyone
• Deal peacefully with anger, insults, and disagreements
Responsibility Do what you are supposed to do • Plan ahead • Persevere: keep on trying! • Always do your best
• Use self-control •
Be self-disciplined • Think before you act — consider the consequences • Be accountable for your words,
actions,and attitudes • Set a good example for others
Fairness Play by the rules • Take turns and share • Be open-minded; listen to others • Don't take advantage of others
• Don't blame others carelessly • Treat all people fairly

Caring Be kind • Be compassionate and show you care • Express gratitude • Forgive others • Help people in need
Citizenship Do your share to make your school and community better • Cooperate • Get involved in community affairs
• Stay informed; vote • Be a good neighbor • Obey laws and rules • Respect authority • Protect the environment •
Volunteer