Personal Freedoms Hate Speech with Brother Dean by Sydoney A.A. Banks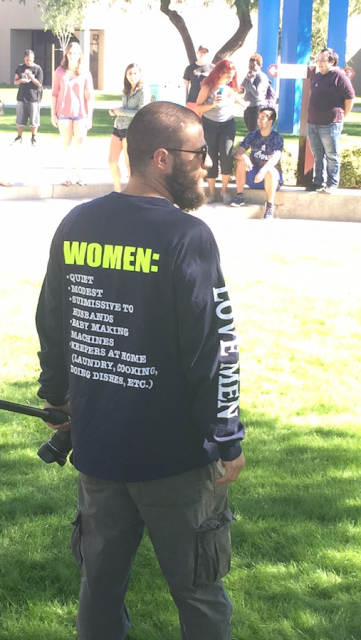 ​I attended a "Healing Racism Presentation" the other night at PVCC. I learned that hate speech is allowed under free speech, as per our first amendment right; as long as it is not directed at an individual and meant to harm them.
How far can or should hate speech go?
There is a man, Brother Dean Saxton, and he goes around the state to different college and high school campuses preaching his form of Christianity. While he is doing this he shouts out horrible statements aimed at the students. He tells them they are going to hell – for being gay, or Muslim, or for masturbating or wearing yoga pants, or for being a feminist, sluts deserve to be raped, you name it and he
​had probably said it to someone at some time. ​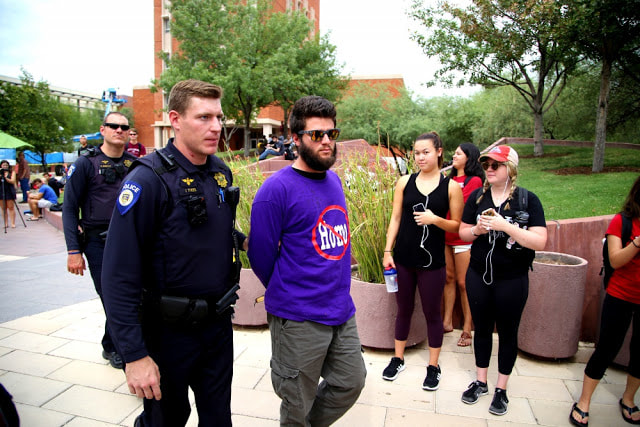 ​He also wears offensive T-shirts with inappropriate signage or statements similar to the previously mentioned remarks. He goes to the places on campus where people have the right to speak and share their free speech amendment with others, and this does include hate speech. If the place has any public funding or support from the public, then the public has the right to be there. He is a member of the public and no matter how disgusting and vile he is he can speak and he also videos while he verbally accosts students. He has had some run-ins with students being violent with and to him. He was hit once in the head with a baseball bat by a young 19 year-old-female and he was injured and bloody and she was charged with felony assault.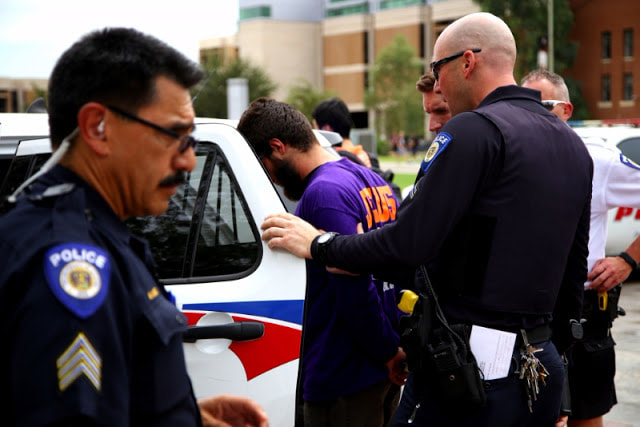 ​ He kicked one young female in the chest when she approached him on campus at U of A and left his boot print on her chest and he was charged with a misdemeanor and was not able to return to campus at U of A for a year or he would then get arrested. So even though hate speech is the worst speech allowed, one is entitled to speak it as long as it (the words) do not harm anyone directly – it is okay. You do not have to listen to it.


Resources
​


http://www.wildcat.arizona.edu/article/2016/09/brother-dean-arrested-today-after-kicking-female-ua-student-kicked-off-campus-for-one-year

http://www.phoenixnewtimes.com/news/arizonas-slut-shaming-preacher-arrested-for-assault-8667424

http://www.wildcat.arizona.edu/article/2017/09/the-return-of-brother-dean

http://www.statepress.com/article/2016/09/spcampus-brother-dean-arrested

http://www.tucsonnewsnow.com/story/33142004/controversial-brother-dean-arrested-on-assault-charge

http://pumapress.org/8438/college-life/brother-dean-preaches-hate-at-pvcc-others-campuses/