​leadership communication by Sydoney A.A. Banks
Effective Communication Tips to Assist and Improve Your Great Leadership Skills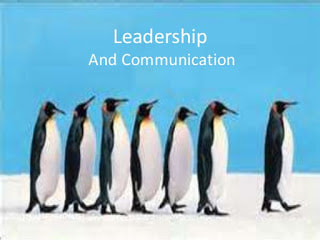 Leaders are often the center of their organization and are always being watched for their best and their worst behaviors. "Words and actions can become habits and habits contribute to defining our character. Leadership is a privilege that must be earned every day" (Gleeson 1). "Effective communication is also about emotional intelligence, knowing your audience and active listening" (Gleeson 1). Effective communication is an essential component of professional success whether it is at the interpersonal, inter-group, intra-group, organizational, external level (Myatt 2). Leaders are models of how they should behave and others do watch and follow how they see leaders acting and communicating (Anthony 1). Great communicators possess a heightened sense of situational and contextual awareness; they are great listeners and astute in their observations; they are skilled at reading a person/group by sensing the moods, dynamics, attitudes, values, and concerns of those being communicated with; they possess the uncanny ability to adapt their messaging to said environment without missing a beat;
​ and the message is 100% about meeting the needs and the expectations
of those you're communicating with (Myatt 2).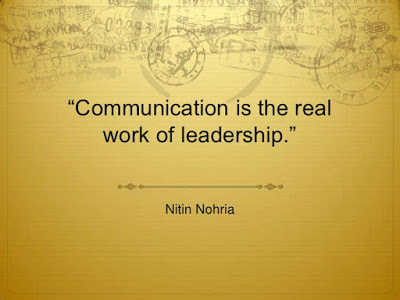 Following are several great communication tips to help you become a much better communicator and an effect leader. Be honest. People will invest time and take risks in ways they never would if they sense their leader is worthy, reputable, and has integrity. To create trust – earn it – with the right acting, thinking, and decision making. People will forgive many things where trust exists, but will rarely forgive anything where trust is absent (Myatt 2). Be present. Stay actively present in the moment and be engaged with your audience no matter how trivial you think the conversation may be; that way
they know you care about them (Gleeson 1). Get personal. Have organizational conversations – think dialog not monologue and the more personal and engaging the more effective it will be (Myatt 2). "There is great truth in the following axiom: 'people don't care how much you know until they know how much you care'" (Myatt 2). Develop meaningful relationships to know what others think and want before it becomes too late to learn what you could have done to make things
better in the first place (Myatt 2). Ask the right questions.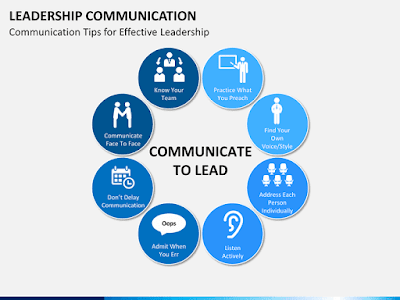 To build and have a great team, one of the greatest privileges a strong leader will attain, can be accomplished by asking the right questions to promote productive and intelligent communication among one another. Have people on your team to success that are much smarter and more talented than yourself in many various areas, so that everyone involved on the team can act on their own areas of strength for the greater good of the entire team. Get specific. Time is precious; so you have to quickly and accurately make the main point clearly, concisely, and simply to be understood fully and to hit the high points/important details so that the main objective is heard and absorbed by all – and expect the same from others. Make your words count (Myatt 3). Interact with a servant's heart. Transfer ideas, align expectations, inspire actions, and spread your vision and passion; focus on contributing more than receiving – what does the other party want, need, and desire – then you learn more and gain more and can then contribute more to attaining both your goal and theirs (Myatt 3).Have an open mind. Seek out others who hold dissenting opinions and opposing positions with the goal not of convincing them to change their minds, but with the goal of understanding what's on their mind and be genuinely curious and interested (Myatt 3). Have an open dialog with those who confront you, challenge you, stretch you, and develop you; remember their opinion is not important, but the willingness to discuss issues with you with you having an open mind and the ability to learn is what is the most important for improvement (Myatt 3).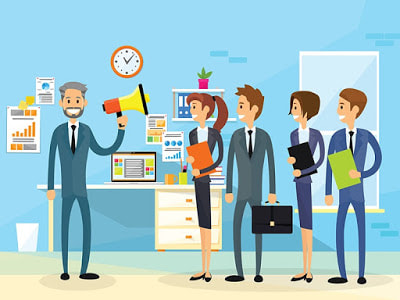 Speak less and listen more. Learn to actively listen to those speaking. Wise people listen more and speak less – the less we talk, the more we will learn from those around us (Gleeson 2). The greatest form of discourse takes place within a conversation, know when to talk, when to converse, and when to listen so you will be able to learn the most (Myatt 3). "Active listening involves concentrating only on the speaker and ignoring outside interruptions, including the listener's own wandering thoughts or possible responses. Active listeners also refrain from interrupting, give the speaker time to finish, show they are listening by doing things like nodding or smiling and reflect or paraphrase back to verify their understanding" (Anthony 1). Work on emotional intelligence. "Emotional intelligence is not a softer-side leadership quality, it's imperative. Being self-aware, disciplined, empathetic, and remaining calm under pressure are all aspects of emotional intelligence that can improve leadership ability" (Gleeson 3). Therefore, these are learned capabilities that have
to be worked on and developed over time (Gleeson 3).
Replace ego with empathy. Be straightforward, sincere, and truthful when
communicating and use empathy and caring as you display a level of authenticity and transparency to articulate the main point of your presentation. This will help you turn anger into respect and doubt into trust with others when you avoid using your
ego to get your message across (Myatt 3).
Stay calm and be positive. Smile and carry yourself with confidence – calm is contagious – body language, tone, and delivery are very important. Effective communication is only about 7% of the words you say, so remember to be calm and positive (Gleeson 3).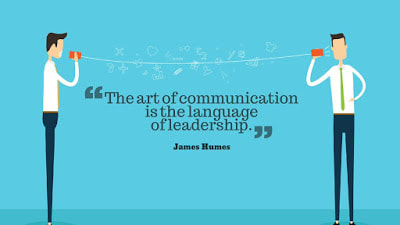 Actions and nonverbal cues include facial expressions, use of hand motions, body posture, and eye movements so strive to always match these cues to your words and then the words are more believable and trustworthy (Anthony 1).
Read between the lines. Great leaders have the uncanny ability to understand what is not said, witnessed, or heard and they know there is much to gain from the minds of others; so watch and listen and speak less and your awareness level will rise (Myatt 3).
When speaking, know what you are talking about. Develop a technical command over your subject matter – add value to a situation or topic and be credible – it matters very much what you say and how you say it (Myatt 4). Speak to groups as individuals. Good communicators/leaders can tailor
a message from one to ten to a hundred to thousands of listeners and have
their audience members feel that they are the individual the speaker is directly
talking to. Knowing how to work a room or an auditorium and being able to establish credibility, trust, and rapport are keys to successful interactions (Myatt 4). Adapt your
style to your audience – identify your audience and their characteristics and interests, adjust your communication style based on what the audience needs and what will encourage them to react to meet the goals of the communication (Anthony 1).
Be prepared to change if the message is needed. Know how to prepare and
develop a contingency plan and your objective must be in alignment with those
you are communicating with and remember to use "great questions, humor, stories, analogies, relevant data, and where needed, bold statements to help connect and
engender the confidence and trust that it takes for people to engage" (Myatt 4). Always have a plan A, but if it for any reason should fail remember to have a plan B or maybe
even a plan C, sometimes things do go awry so be prepared to succeed.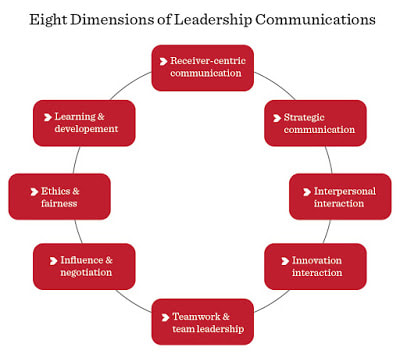 Prepare the way. Spend time to prepare the way for others to receive a productive conversation. Let them know where you are coming from so they will know where you
are going to – communicate your objective to others. The message is received
when the way is made clear for listeners to hear and understand the full message
given using knowledge, logic, reason, empathy, etc., and it won't fall on deaf ears
and have to be reinforced or clarified later (Myatt 4).
"Effective communication skills do not come naturally for most people" and many "need to practice repeatedly in order to improve their skills" and one may "consider classes or training that will help them communicate effectively" (Anthony 2).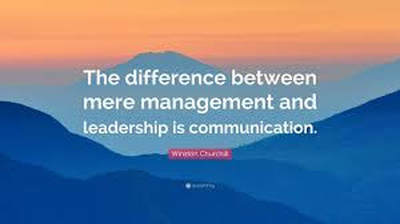 Works Cited
Anthony, Leigh.
Effective Communication & Leadership
.
Gleeson, Brent.
5 Ways to Improve Leadership Communication
. Published on May 23, 2016. TakingPoint (
http://www.brentgleesonspeaker.com/
)
Myatt, Mike.
10 Communication Secrets Of Great Leaders
. April 4, 2012. Forbes.
https://www.forbes.com/sites/mikemyatt/2012/04/04/10-communication-secrets-of-great-leaders/#218c8fe822fe
smallbusiness.chron.com/effective-communication-leadership-5090.html
https://www.inc.com/brent-gleeson/5-ways-to-improve-leadership-communication.html
Some good videos on Leadership and Communication.