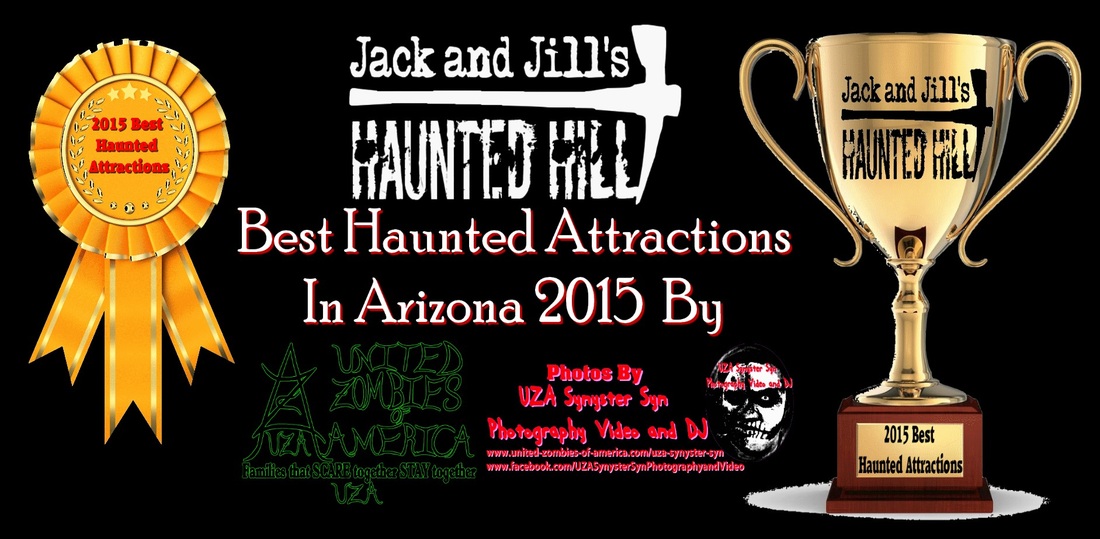 Jack and Jill's Haunted Hill Haunted House has finished the 2015 season. United Zombies of America and Synyster Syn have voted Jack and Jill's Haunted Hill the "Best Haunted Attraction in Arizona" for 2015! Jack and Jill's Haunted Hill remains true to their story line and it was an incredibly scary haunted house. They have amazing sets, intense actors, and it feels real and the makeup was on point. You feel like you are a part of the story or that you are in a horror movie. What a nightmare and an out of this world haunted house - it really is a one of a kind and very different. Congratulations go to Jack and Jill's Haunted Hill!

You begin to go up the stairs to the mines and they are just down right creepy and dark, as you also get lost. The only way out is to follow the lanterns and with that you have creepy miners talking to you and just creeping you out. Then you go into the forest where the terrifying forest monsters lurk. Next, you happen onto a creepy, scary, odd, old man sitting on the front porch waiting to greet you. The beginning of this cursed house has you go into a living room and then to a dark hallway that leads to a messed up doctor's darkroom. The doctor is one scary yet smart mad man. After you survive the doctor's room, if you do, you go on to the cages where there are poor souls being held for some unknown messed up reason. Man, this place is just messed up and it worsens as you come into the bathroom and I will just say that you will really need to use the bathroom from the horror you have just witnessed of the girls in there or are they girls, well whatever they are, they are horrifying. Next, you come down a hallway to the kitchen and meet up with a large psycho-killer in full on action getting ready for a kill, but then you run out of there and you think it cannot get any worse and it for sure does. Now you come into a room that you will never forget, where there are victims forced to eat people by some nasty, sick, crazy women. Then you go down the stairs with the help of this maniacal freak into the dark to meet up with some large, creepy, scary dudes and then on to the torture room where there is just madness and horror as you push through the bodies then you are chased out, if you make it out!

It was a blast to go through with friends and to see what happened to Jack and Jill as you watch them get scared and have a good time as well. The actors are really committed to their art and they are very good at what they do and how they do it!

There are no animatronics, just wonderful actors and awesome sets and it is way worth the money and time you get to spend while there! There are other cool things to see and do while you wait indoors before you get to enter the haunt, so make sure to put this on next year's calendar 2016 for fun and fright.

This was not just another haunted house, but there was also music, dancing, games, food and Go-karting to experience and enjoy. So much fun, for everyone!


UZA and Synyster Syn 2015 Best Haunted Attraction goes to Jack and Jill's Haunted Hill! Congratulations Jack and Jill's Haunted Hill!